Covid-19
: Thank You For Practicing Social Distancing
Recover broken usb flash drive
A USB flash drive is a device that is used to store data. This device is different from usb hard drive. A usb hard drive is called external hard drive that connects to computer via a usb cable. The drive size is usually 2.5 inch and 3.5 inch. USB flash drive is a small storage device that has pcb, usb connector, controller and nand chips. Some usb drives have one and some have multiple chips. The bigger the capacity, the higher the number of chips will be found on the device. A usb device can fail logically and physically.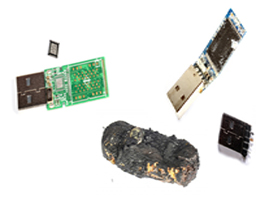 If a usb flash drive is physically malfunctioning, troubleshooting efforts will be performed but what if a usb is broken in half? This means the board is physically broken and because the board has multiple layers, it is almost impossible to reconnect every bus on the board. The controller stores the algorithm. An Algorithm is set of commands to process and manage data in chips. The good news is, the recovery is still possible. How you do it? This depends who is doing it. Only professionals can do this kind of job. We at Data Recovery Onsite can do the job no matter how badly the pcb is damaged or even if the controller is damaged or missing. This kind of recovery is not easy. It needs a lot of experience and tools. If you have usb recovery need, please contact us.
Click here to contact us.