Covid-19
: Thank You For Practicing Social Distancing
Data Recovery Etobicoke Ontario. Hard drive recovery Etobicoke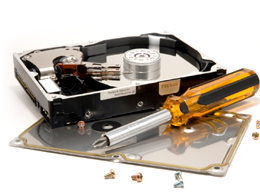 Our hard drive recovery lab specializes in recovering data from liquid damage MacBook Pro retina, liquid damaged iPhone, iPad, dead hard drives, burnt drives, dead windows computer, broken Mac computer, non-function raid array, dead micro SD card, external portable drive, external desktop drive, virus infected laptop or desktop, corrupt or broken USB flash drive, failed server drive, deleted or formatted computer or laptop, dead Microsoft Surface tablet and all other storage devices. We can recover data from drives that a repair place cannot because we use professional high end technology. This technology can recover data from most dead drives. For head transplants, we use clean environment. This ensures no dust goes inside the drive while we repair it. We offer fast and free evaluation. We also offer emergency services. We can recover all data and programs and put them back on a new drive and install the new drive in your system so that everything come back to normal like before when the computer failed or the drive died. This kind of recovery has great value because you don't have to reinstall all the programs, copy all the data, setup printers, make new accounts, and setup all the folders again. We save you from all this unnecessary work.
We recover Computer, Mac or Laptop drives that cannot be read by normal computer


Water spilled or burnt hard drive repair


Power failure or dead computer


Drive failed due to physical failure


Hard drive is making all kinds of noises


Viruses, spyware or software corruption


Frozen computer or computer restarting


Drive was initialized by mistake


Files and folder permission problem


Drive is unstable and unusable


Data transfer and recovery from time machine backup


Flashing folder sign or red ring of death


Mac stuck on moving bar?


The computer is restarting and no access to data


Windows or Mac server died

Our hard drive recovery services are available for residents of all Etobicoke like Lakeshore, Queensway, Kipling, West Mall, Islington, Steels, Bloor Street, Albion, highway 427, Airport, Centennial Park, Woodbine, Sherway Gardens and all other areas in Etobicoke. We have served many customers in Etobicoke area for the last 10 years. Etobicoke is located at the border line of the city of Mississauga. Customers always use our free pickup service. They also visit our lab as it is not far from the city of Etobicoke. Visit your local data recovery lab today.
data recovery lab for Etobicoke area