Covid-19
: Thank You For Practicing Social Distancing
Difference between IDE and SATA drives:
A drive that uses IDE connector is called IDE drive. IDE means integrated drive electronics. Also known as PATA, is the old type of connection used in old hard drives for communication with the motherboard. The speed was slow but much faster than the then floppy diskettes.  There are two main parts of the connector, the actual data pins and the power pins. There are jumpers in the middle. These jumpers are used to switch the drive function to slave or master. Here is the picture of such connector. This connector is being used in both 3.5" desktop drives, server drives and 2.5" laptop drives.  This connector is also used for CD and DVD drives.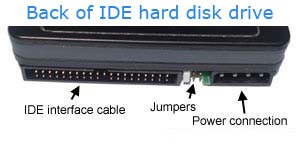 A drive that uses SATA connector is called SATA drive. SATA is the newer type of connection used in newer hard drives. Serial AT Attachment (SATA) is more efficient type of connector that is being used in both desktop and laptop drives. SATA connector is way faster than IDE connector. This connector comes in types like eSATA, mSATA etc. This connection also has two parts. One is for data portion and the other is for power. It is way faster connector with speeds like 1.5, 3.0 and 6.0 G bits/s. It was invented in the year 2000. All modern CD and DVD drives use this SATA connector. Most modern computers, servers and laptops use SATA drives.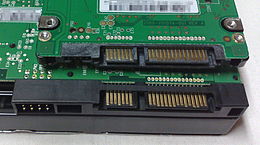 An IDE drive cannot be used in a computer that has only SATA connections for storage. Similarly old computers that have only IDE connectors cannot use drives with SATA connections. This is true for desktop computers, laptops and servers.
Click here to contact us.